Selling Your Jewellery
Selling Your Jewellery
Do you have unworn or broken gold jewellery accumulating in your jewellery box? Have you inherited something you're not quite sure about? Stop by today for a complimentary evaluation - no appointment necessary!
We are actively seeking quality vintage & antique jewellery, loose diamonds and gold.
Receive 100% of today's gold value on in-store purchases & repair services.
FAQ
Q: Do I need to schedule an appointment to sell my jewellery?
A: In almost all cases dropping-in is just fine. If the lot or estate is particularly large it is recommeded to call ahead to ensure someone will be ready when you arrive.
Q: Can I use part of my gold trade-in on a repair or store purchase and take the rest as cash?
A: Absolutely. We will happily accomodate whatever combination works best for your needs.
Q: I'm not quite sure if my jewellery is gold, can you help me determine this?
A: Yes. We are able to quickly and non-destructively test the purity of gold and platinum items.
Q: I have a jar of small loose diamonds/gemstones or some gemstone rough. Is this something you're interested in?
A: No. We purchase larger [0.50ct & up] loose diamonds to be recut, reused or recycled
Q: I have some silverware I am interested in selling. Is this something you purchase?
A: Yes, however most silverware is silverplate which has no intrinsic value. We can quickly determine whether the piece is plated and we will make an offer on all solid silverware based on today's silver value.
Q: My question isn't listed here, where can I find out more?
A: If you have a specific inquiry feel free to contact us @ (519) 741-8900 or info@johnanthonyjewellers.com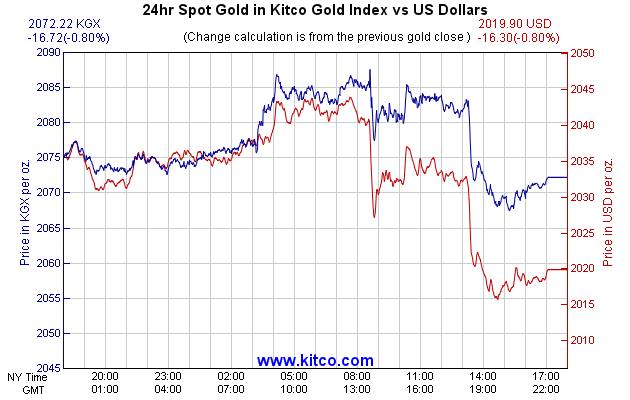 Please refresh this page to view the live price of gold in real-time.
Source:www.kitco.com